Home

products

MKV Converter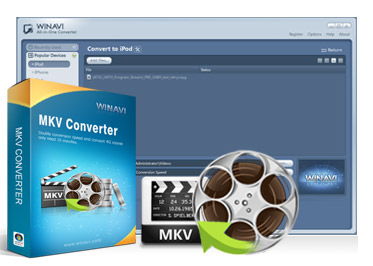 WinAVI MKV Converter
WinAVI MKV Converter is the best MKV HD Video Converter in the world, it can convert MKV to Blu-ray DVD , Convert MKV to AVI , Convert MKV to MOV , MP4 , WMV and other popular formats you know within three steps. Even the stream media format output are supported ASF, FLV, SWF , MOV, QT, MP4, DV, 3GP, 3G2, DAT, MPG, MPEG, VOB, F4V.
MKV Converter
What's MKV?
MKV(Matroska Video) is a filename extension for the Matroska video format. Being able to hold an ultimate number of videos, audio, pictures or subtitle tracks in a single file is its key feature. As a free open source multimedia container format, Matroska is based on EBML (Extensible Binary Meta Language) and thus allows changes to be made easily without breaking old file supports.
Features
The development of Matroska has been a great challenge and total subversion of traditional media formats. With the capability of holding various types of videos, audios and subtitle tracks, even those streaming media like RealMedia and QuickTime, Matroska almost becomes an omnipotent multimedia container. Up to now, the types of video, audio and subtitle tracks that can be packaged by Matroska include,
AVI Files, including those comprising DivX, Xvid, 3ivX, VP6 videos and PCM, MP3, AC3 audio
RealMedia Files, including RealVideo and RealAudio
QuickTime MOV and MP4 videos
Windows Media Files, including ASF and WMA formats MPEG Files, including M1V and M2V
Ogg/OGM Files, including Ogg Vorbis, OGS, FLAC files
Matroska Media Files, including MKV, MKA, MKS files
WAV, AC3, DTS, MP2, MP3, AAC/MP4 audio
SRT, USF and SSA/ASS subtitle files
SubVob overlay suffixed by IDX and SUB
BMP overlay

Besides, Matroska is able to hold some information like Chapter and Tag, even to add attachments. It should be pointed out that the "packaging" here not only means to put those media files together but also to organize them in a particular way.
Matroska incorporates EDC(Error Detecting Code) that is missing in AVI, thus even those incompletely downloaded MKV files can be smoothly replayed, which is totally impossible for AVI files. VFR( Variable Frame Rate) is supported by Matroska.
Compatibility
Support multiple video and audio formats, especially Real Support multi-sound track, up to 16 or above Support SSA /ASS subtitles, up to 16 or above Support chapter-selection
MKV Player It is not necessary to use a standalone player to play Matroska formats. We only need to install a Matroska decoding separator plugin in the Media players we have to play MKV files, such as free MKV Player and free MKV Player for Mac.
Related Questions :
Users Reviews

So far the program is amazing! I have converted a couple of 50GB BD ISO to MKV files at under 3GBs!! Thanks!

- McGeary
Awards by Tucows