Home

All in one Converter

Blu-ray Ripper
All in one Blu-ray Ripper and Converter
Blu-ray Ripper is a software application for Microsoft Windows (including Windows 7/8 support) that can create backup disk images of the Blu-ray/DVD-Video structure of BD/DVDs. It can be used to image any BD/DVD, but controversially it is especially useful for decrypting copy protected movies. The program can also record images to disc. All decrypting software allow a region-specific BD/DVD to be copied/converted as an all-region BD/DVD. It also removes Macrovision content protection, CSS, region codes, and user operation prohibition. Even use the Blu-ray Ripper or Converter, we can backup Blu-ray and DVD to any media format. Follow this guide to show you how to rip Blu-ray with WInAVI Blu-ray Converter.
Step1: Free download WinAVI Blu-ray Converter - WinAVI Blu-ray Converter and then install and start.
Step 2:Insert a Blu-ray disc and launch. If Blu-ray file has been already on your computer, you can just drag them directly.
Step 3: After the disc is inserted, you can click "Convert from Blu-ray Drive ", then the program will import all the Blu-ray titles. Also you can click "Convert from Blu-ray directory" or "Convert from Blu-ray Image File" button to load Blu-ray file. Then a small window will pop up and ask you to select the output format, here we choose "AVI" format.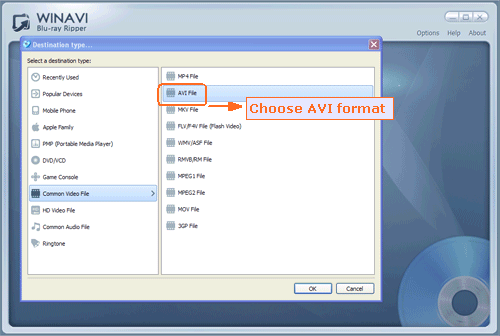 Step 4: Click "Advanced " option to customize your AVI video of output. You can set subtitles, frame rate, audio settings.etc.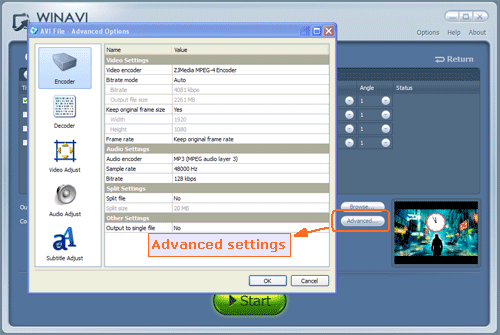 Step 5: Click "Start" button and convert Bluray to AVI. You can click "Open the output directory" to check the converted AVI file when Bluray to AVI conversion is complete.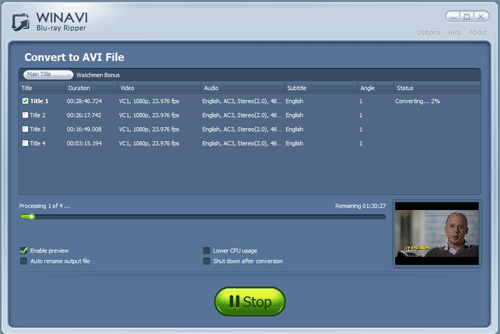 Readers also visit these :
Related Questions :